4 Smart Home Technologies That Take Automation To The Next Level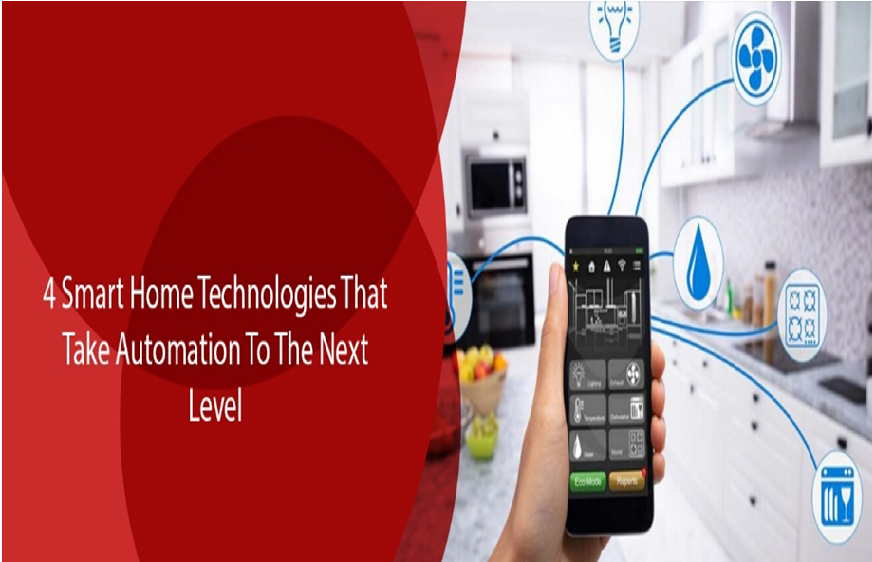 Smart home devices aren't a gimmick anymore. Smart home technologies have greatly improved over the years and today offer a higher level of security and convenience in homes than previously possible.
However, not all technologies are created equally. Some smart home devices are far more practical than others. These devices also give you a bigger bang for the buck, making them definitively superior to their conventional counterparts.
Here, we explore four smart home technologies that take automation to the next level to bring you real, practical benefits that make your life easier. Let's jump right into it.
Smart Security Cameras
If you've ever had traditional security cameras installed in your house, you know what a hassle they are. You have to install the power cables, run the Ethernet cables to the DVR box, set up a monitor, connect all the wires, and set the UI before you're able to view the feed. It's boring, repetitive, and tiresome work.
Smart security cameras are the newest generation of security cameras that are much easier to set up and have more features than conventional cameras. Unlike wired cameras, smart cameras operate via your Wi-Fi router. This means you don't have to run Ethernet cables throughout the house to get everything connected. Only a power cable has to be connected to each camera. Battery-powered cameras don't even require that, they're completely wireless.
Smart cameras are not just convenient, they also have many impressive features. Most smart cameras come with an app that allows you to view the feed directly through your phone. Smart cameras also have a motion sensor that sends you a notification when something is going on in the field of view. Some cameras have additional features such as mics, speakers, and even facial recognition. Smart cameras are the future and there's no doubt about it.
Smart Video Doorbells
The simplest way to describe a smart video doorbell is that it's a smart security camera that's also a doorbell. However, video doorbells do a lot more than this. Like smart security cameras, smart video doorbells connect to your Wi-Fi and allow you to see the footage they capture via your phone. Video doorbells also have motion sensors that notify you when there's any activity near your door. This is where the similarities end.
Smart video doorbells feature a wide-angle lens that gives the camera better coverage of your door. Video doorbells also allow you to remotely talk to the person at the door via a built-in microphone and speaker. Some video doorbells have prerecorded greetings for visitors. The cameras in smart video doorbells are also able to see in the dark with infrared light.
A smart video doorbell may need to be connected to a power outlet. Some wireless options run on a battery and are even easier to install. Whichever type ends up being more popular, one thing is for sure: smart video doorbells are here to stay.
Smart Locks
Conventional locks aren't nearly as secure as we think we are. Nearly every single conventional lock can be picked with the right tools. Smart locks, on the other hand, are an entirely different breed.
Smart locks come in a variety of shapes and sizes, but they all have one thing in common: they're connected to your home. This means that if there's an attempt to tamper with the lock, they can trigger the alarm.
Smart locks not only make you safer, they also make your life easier. You can unlock the door using a key or you can use your fingerprints. You can set up a password or control the lock through an app. Most smart locks offer more than one way to unlock, so you can get in even when you forgot your key.
Smart Lights
Lights play a more significant role in our productivity, mood, and health than we realize. For instance, blue light increases serotonin levels in the brain which makes us feel more energetic and wakeful during the day. The same blue light can make us uneasy at night and make it harder to fall asleep.
We need different levels of light at different times of the day, but who has the time to manually control the brightness and color temperature of the room? Smart lights are the answer.
These smart devices connect to your smart home and work according to your needs. For instance, if you have a smart lock, it can alert the smart hub when you come in, triggering it to turn on the lights. If you have a smartwatch, it can monitor your sleep and control the lights according to your routine. The possibilities are endless.
Smart Homes Need Fast Internet Connection
Your internet is at the center of your smart home. All your smart home devices work through your Hub and Wi-Fi router which are connected to the internet. You need an internet connection with high enough speed for all your devices and your personal data usage.
We recommend Grande Internet for smart homes in Texas. Grande is an Astound Broadband company powered by fiber optic technology that has become a popular ISP in Texas. Grande offers internet speeds of up to 1200 Mbps at very competitive rates. Visit buytvinternetphone.com to learn more.