Tips to Clean Grout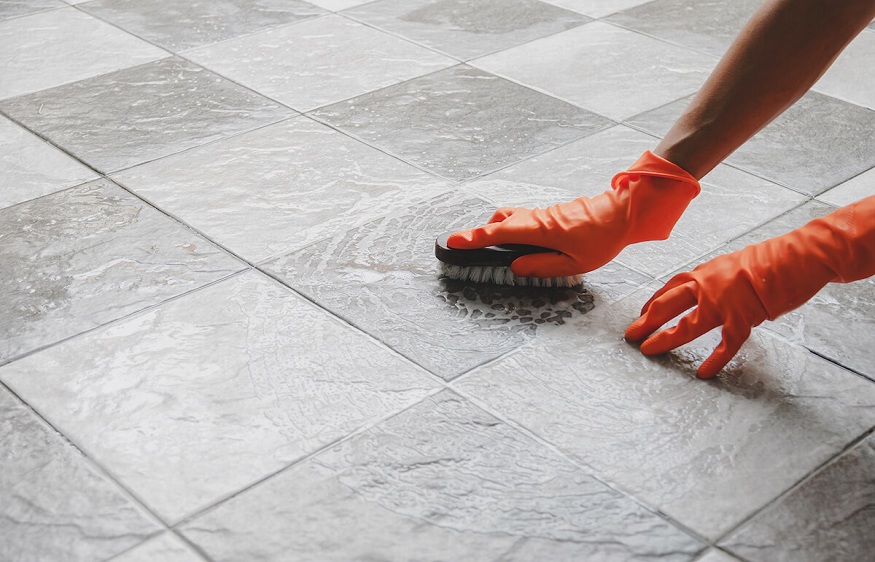 Tiles are always beautiful, durable, and easy to clean, but that's something else when it comes to cleaning grout. Grouts are porous in composition, light-colored, and prone to stains, making them difficult to clean. The tiled entryway, bathroom, and kitchen are just a few areas with grout.
Cleaning grout can be demanding and time-consuming. However, there are still ways to help you clean grout without spending much. The tips below will help you clean your grout easily, faster, and cost-effectively.
1.Scrub Dirty Grout Using Warm Water and a Medium-bristle Brush
Gather some essential equipment like a medium bristle brush, warm water, and a grout scrubber. After that, gently spray warm water on the grout lines.
Using a grout scrubber, scrub in a circular motion until it appears clean enough. Leave it for some seconds to dry.
Ensure you don't use too much water to ensure moisture doesn't stay longer in the grout tiles. Porous grout can absorb water, leading to mildew growth, destroying your grout, and undermining your safety.
2.Hire Commercial Grout Cleaners
With many commercial grout cleaners on the market, finding the best suits your need can be stressful. However, you still need to hire the best commercial grout cleaners to do the job effectively.
A good residential cleaning company that offers grout cleaning services will be a wonderful choice. They have highly experienced workers and use the most effective tools and equipment to deliver the services needed for the job.
Also, they use modern grout cleaning methods and are always available to provide you with satisfying results.
Besides, commercial grout cleaners offer pocket-friendly services. They quickly remove mold and mildew to ensure you have a clean and safe grout.
3. Mix Cleaning Solution
If you're planning to clean your grout, you should know the solutions you need. A list of the best solutions should always tick in your mind. The choice of your solution to be used depends on the state of your grout.
For instance, a stained grout requires a mix of two parts of baking soda with a single part of vinegar. A mix of two parts of baking soda with one part of water for daily dirt and debris is the best solution to deliver excellent results.
Fragile tiles require a mixture of two parts of baking soda with one part of hydrogen peroxide for best results.
4.Ensure Proper Grout Maintenance
Grout maintenance is an important aspect of the cleaning process. Once you finish all your cleanings, spray the surface with some maintenance chemicals like grout cleaner, household vinegar, or a mild grout cleaner. Don't forget to wipe it to keep it free from stains.
Rubbing alcohol helps keep mold and mildew far away from your grout, ensuring the safety of your home.
Therefore, ensure you have spritzer and wipes to conduct regular cleaning and wiping to help you preserve the attractive appearance of your tiled surfaces. With proper maintenance, your tile grout won't only remain clean but attractive always.