Shopping Tips For Finding Living Room Area Rugs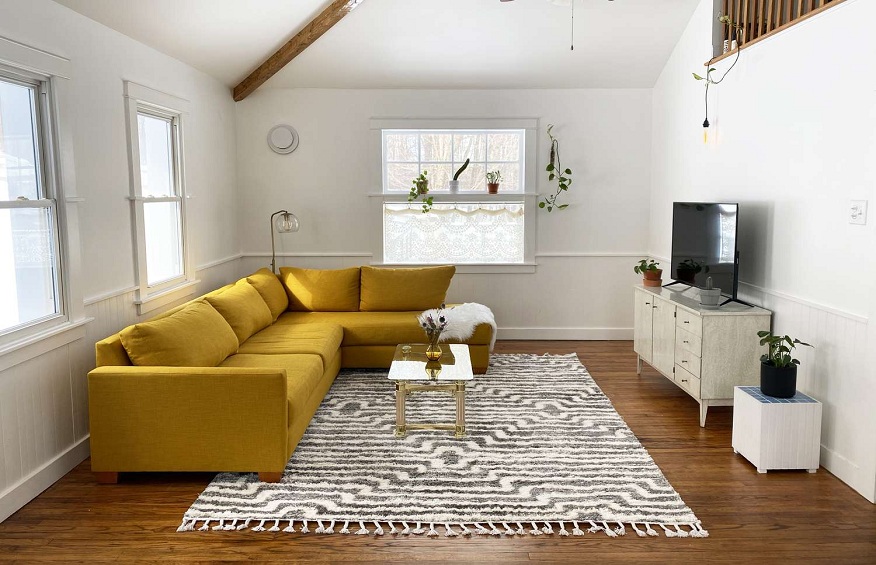 There's no doubt about it that living room area rugs can completely transform the ambience of your home's living room, and they can also be the perfect complement for your home's overall décor.
Area rugs help you showcase your home's hardwood floors while maintaining underfoot softness, they help define living room parameters within open floor plans, and they're a great investment that can last for several decades.
Below we'll be providing several important shopping tips to keep in mind while you're on the hunt for new living room rugs!
Living Room Rug Sizes
The most important thing that you should keep in mind when it comes to living room rug sizes is that you shouldn't go too small while decorating your home's living room. There are certain standard sizes that living room area rugs come in, which include:
10×14 ft.
9×12 ft.
8×10 ft.
6×9 ft.
Although you could always shop for a custom-made living room rug that perfectly matches your room's architectural parameters, you'll likely be shopping for rugs that fall within the above dimensions. But no matter what size you end up choosing, you're going to need to keep some interior design rules in mind.
Some of these rules include maintaining about eight inches of floor on each side your rug, and keeping at least the front legs of your major furniture on top of your new rug. Many people prefer to keep all four legs of their furniture on top of their rug, but this décor rule can be more subjective than others.
Properly placing your furniture on top of your rug is crucial for your living room's aesthetics, because improper furniture placement can make your space look unbalanced or even unfinished.
Rug Patterns & Colors
Your living room's flooring design will ultimately have a significant impact on the overall ambience and décor of your entire room. There's a lot that rug shoppers need to keep in mind when it comes to the patterns and colors of their living room rugs, and some of our tips to consider include:
Patterned rugs are great ways to add interest and color into your living room, particularly when you have neutrally-colored walls and furniture. Just make sure that your rug's colors and patterns cohesively blend in with the rest of your existing furniture and décor setup.
Patterned living room rugs that come in darker colors can do a great job at hiding spills and dirt, as compared to more solid-patterned rugs that come in lighter colors.
If you already have a rather eclectic room décor, then it could be a good idea to consider a solid-colored, neutral area rug. This will blend in well within this type of room dynamic, because the rug won't take away from your textured and colorful existing décor.
Consider using one or two colors from your existing décor to implement into your rug shopping. This can help you develop a colorful, vivid room that doesn't clash colors. You don't want to create a visually cluttered living room, so matching certain elements and colors can create more décor cohesion.
Rug Texture & Materials
Some of the biggest factors that go into rug shopping are the rug's materials and texture. These two components will dictate how the rug feels underfoot, as well as how much maintenance you may need into the future.
Rug materials also are indicative of a rug's overall quality, which is a huge factor in terms of the product's value. Some of the most common rug materials include:
Wool
Jute and sisal
Cotton
Synthetics (polyester, nylon, etc.)
Viscose
Acrylic
Animal hides
Layering Multiple Area Rugs
Rug layering refers to placing two or more rugs on top of one another in order to create a unique flooring aesthetic, and this is a growing industry trend that all rug shoppers should consider.
This trend is one of the hottest Boho Chic concepts, because rug owners can essentially create their own unique flooring patterns and colors. And what's great about this concept is that you can switch out your top layers and mix things up based upon seasons, weather, and other extenuating circumstances.
Reach Out To Rug Source When You're Looking For Living Room Area Rugs!
Rug shopping can be incredibly difficult and stressful, and this is particularly the case when you're shopping online and aren't getting the details that you need to make an informed purchasing decision. One of the best online rug marketplaces in the United States is Rug Source, and they've become an industry leader due to their unparalleled combination of top-quality rugs and impeccable customer service.
You can check out Rug Source's living room rugs by going through the link located at the top of this page!