Bamboo Wall Design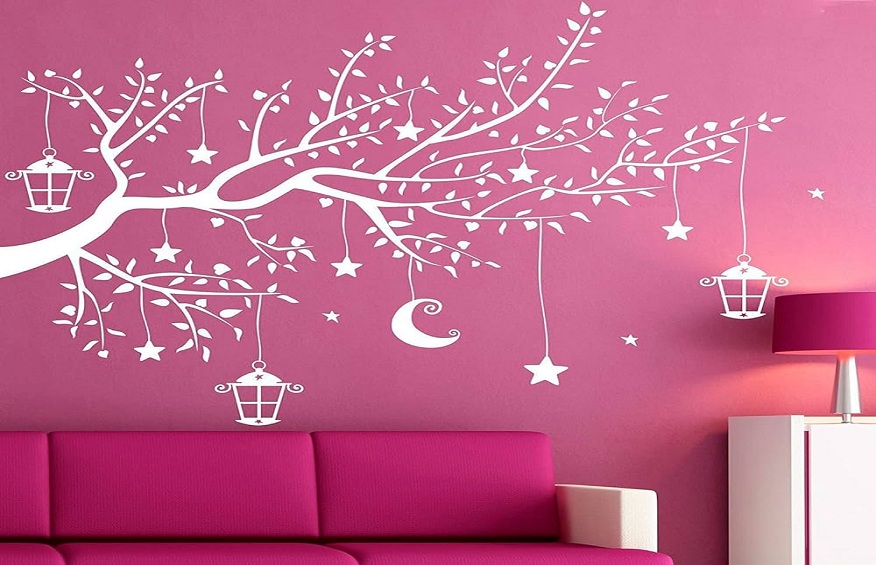 Bamboo, a versatile and sustainable material, is making significant strides in the world of interior design. Its natural charm and unique aesthetic have led to an increasing interest in bamboo wall designs. Whether you're aiming for a minimalist look or a tropical-inspired theme, bamboo can effortlessly blend into various styles while adding a refreshing touch. The inherent texture and warm tones of bamboo can infuse any space with a calming, organic feel, transforming your interiors into a serene sanctuary.
In this guide, we'll delve into the world of bamboo wall design ideas, exploring their beauty, versatility, and the transformative impact they can have on your living spaces.
Get ready to be inspired by the stunning potential of these humble, yet powerful home décor ideas!
1. Outdoor Bamboo Wall Design: Vertical Panel With Lighting For Entryway
This design uses vertical bamboo panels on the exterior, providing a warm welcome to visitors. The panels are illuminated with subtle lighting that highlights the natural textures and colors of the bamboo. It's not just aesthetically pleasing but also durable against outdoor elements. This design is a perfect way to make a lasting first impression.
2. Decorative Bamboo Design Art
Decorative bamboo design art is an innovative way to incorporate natural elements into your home decor. These bamboo wall design ideas can range from intricate patterns to abstract forms, each piece telling its own unique story. They serve as a focal point in any room, adding character and depth to the space while celebrating the beauty of nature.
3. Partial Bamboo Wall Cladding For The Living Room
Partial bamboo wall cladding offers a unique blend of modern and rustic styles. It involves covering a portion of the living room wall with bamboo, creating an accent wall that stands out. In addition, its natural tones offer warmth and texture, making the room feel more cozy and inviting.
4. Bamboo Wall-To-Wall Headboard
A bamboo wall-to-wall headboard can transform your bedroom into a tranquil retreat. The broad expanse of bamboo behind the bed creates a soothing backdrop, offering a sense of serenity and calm. Its natural texture and color add an organic touch, enhancing the overall aesthetics of the room.
5. Bamboo Planters With Boho Wall Hanging For The Bedroom
This design combines the charm of bamboo planters with the whimsical style of boho wall hangings. The bamboo planters house greenery, adding a touch of nature to your bedroom. Meanwhile, the boho wall hanging adds a layer of texture and pattern, creating a visually rich and layered look.
6. Bamboo Accent Wall With Built-In Lighting
A bamboo accent wall with built-in lighting is a great way to showcase the beauty of bamboo while providing ambient lighting. The light highlights the natural variations in the bamboo, creating a visually stunning effect. This design is perfect for creating a warm and inviting atmosphere.
7. Picture Frame-Like Vertical Garden For The Living Room
A picture frame-like vertical garden uses bamboo as a border for framing plants, creating a living piece of art. It's a creative way to bring the outdoors in, adding a fresh, vibrant touch to your living room. This design not only adds visual interest but also improves air quality, making your space feel more alive and welcoming.
Bamboo wall designs offer a unique blend of aesthetics and functionality. Whether it's creating an inviting entryway, adding character to your living room, or transforming your bedroom into a tranquil retreat, bamboo proves to be a versatile and sustainable choice. The natural charm, warm tones, and unique textures of bamboo wall design ideas can infuse any space with a calming, organic feel. Moreover, innovative designs like bamboo planters and vertical gardens also allow you to incorporate greenery, enhancing not just the look but also the overall ambiance of your space.
Try to embrace the beauty and versatility of bamboo in your interior design with these home décor ideas and experience how it can transform your home into a serene sanctuary!